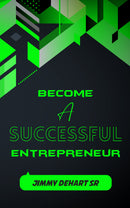 Description
Become A Successful Entrepreneur
Kindergarten Style Instructions!
Did you get my book yet?! Jimmy 😊
Ebook $2.99 purchased here(Instant Digital Download, Read NOW!)
Paperback $8.97, Kindle $2.99 or my favorite Audiobook for $5.99 can be found on Amazon - You can purchase either formats by going here👉Amazon Prime. My book can also be found at most online book stores.
Struggling with a maze of information while trying to turn your entrepreneurial dreams into reality?

Do you often wake up in the morning overcome with feelings of doom and gloom? The thought of dragging yourself to another grueling day at work never fails to get you down. You can't wait to escape it all and finally follow your heart's true desire.

You've been nursing entrepreneurial dreams for as long as you can remember. But you just can't take the first step. There's too much information to wade through that you don't even know what the first step is!

Become A Successful Entrepreneur: Kindergarten Style Instructions! by Jimmy DeHart Sr offers simple instructions to help you get started.

Jimmy DeHart Sr. has made it his life's mission to share the wealth of knowledge he's accrued over many years of business experience and accomplishments. He wants to make sure you will make it, too.

People are often bombarded with a barrage of complex concepts that paralyze them into inaction. Jimmy DeHart Sr tackles the problem head-on with an instructional book that breaks entrepreneurial knowledge down to a kindergarten level of understanding. You gain a solid direction that sends you on your way to launching your own startup.

Running a business comes with fear-inducing uncertainty. Jimmy DeHart Sr recounts the advantages of entrepreneurship, reigniting your dreams of becoming your own boss. With your inner desire all fired up, you will have more courage to stump the obstacles.

In this book, you'll acquire:

✅ A wealth of information from someone who's been there, done that
✅ Detailed, easy-to-execute guide
✅ Inspiring reminders of why you want to become an entrepreneur

Time to make your dreams come true. Add the book Become A Successful Entrepreneur: Kindergarten Style Instructions! by Jimmy DeHart Sr to your cart TODAY!